Flaxseed Bread Cinnamon Loaf | Vegan, Keto, Top-8 Free
This adorable Flaxseed Bread Cinnamon Loaf is the pefect low-carb bread recipe. Made of just a few simple ingredients, it's one of the best keto bread recipes I've created. All ingredients are all keto, vegan, sugar-free, nut-free, top-8 allergy free, coconut-free, oat-free and oil free! And it's also no bake! What's it made with you ask? Read on to find out!
Flaxmeal is an interesting baking product, it has a tendency to behave unpredictably sometimes, it can get slimey, or gooey or even be bitter if not handled correctly.
I also found that when you aren't using any gums (like this recipe) or adding any other flour bases (like coconut flour or all-purpose flour) it's best to work with it in smaller batches and use a microwave instead of an oven to help it rise.
This is why I've chosen to go with a mini loaf bread pan instead of a full sized one. This recipe also works really well in small ramekins or cupcake pans.
For this recipe you won't need an oven, because this is a no-bake bread where we'll be using the microwave. Another thing I noticed about trying to turn flax and water into bread (when no yeast is involved) is that it gets a lot more fluffy and actually 'rises' when you use a microwave. Sometimes I like to finish it off in the oven to get rid of any excess moisture or condensation after microwaving, but if you do it right that's not even needed.
Special notes for the perfect flaxseed bread cinnamon loaf:
The key to flaxseed bread cinnamon loaf is that the flax meal must be 'golden flax' and it must be ground finely. I use Bob's Red Mill brand but even the kind labeled 'ground' is not fine enough, so I run it through a coffee grinder, magic bullet (with grain blade) or Vitamix.
When adding the water don't be afraid that you're going to add too much, it thickens up a lot and even if the dough turns out really thin you can always add a little more flax and/or microwave a little longer to remedy. This is one case in which MORE WATER IS BETTER THAN LESS. If you try adding water after you've mixed you'll find it hard to combine. So just add extra if this is your first time making it to be on the safe side!
Special special notes:
Taste your flax meal, if it tastes bitter at all it means it's gone rancid. This can happen easily when because of the high omega fat content. So always store any open flax meal in the fridge to prolong the shelf life.
Why use the Microwave and not the oven?
Since this flax cinnamon loaf bread uses no eggs, yeast or gluten it can be difficult for the bread to do the one thing that bread needs to do to be bread…rise! I've found that the microwave offers the perfect environment to make many of these gluten-free, egg-free, dairy-free, keto recipes rise and expand and create the bread-like text we all miss and love from our favorite traditional recipes. It's far better than an oven, which can take a very long time and result in a flat or gooey texture.
Sweetener:
I like to use Monkfruit based products to sweeten things as it's sugar free, low net carbs and works great in baking. Stevia would work this same way in the recipe as well. This recipe will also work with  coconut sugar or real maple syrup, honey or agave if you so choose (but beware it would no longer be Keto).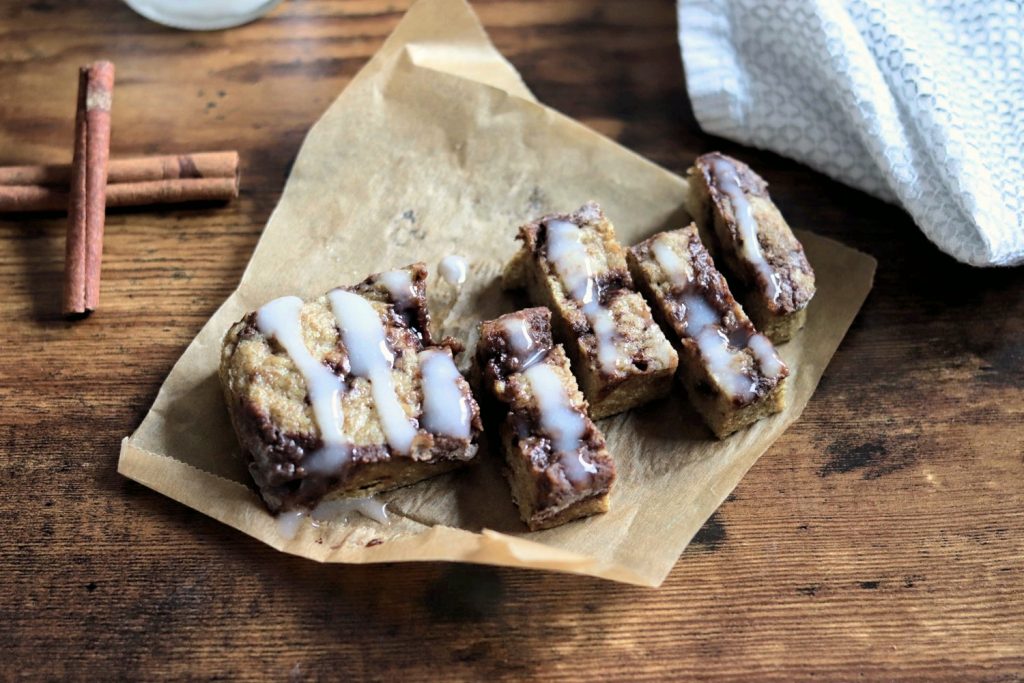 Flaxseed FAQ
If you're interested in learning more about the health benefits of flax, I recommend reading this article that breaks down all of the benefits and dietary tips for consuming flaxmeal.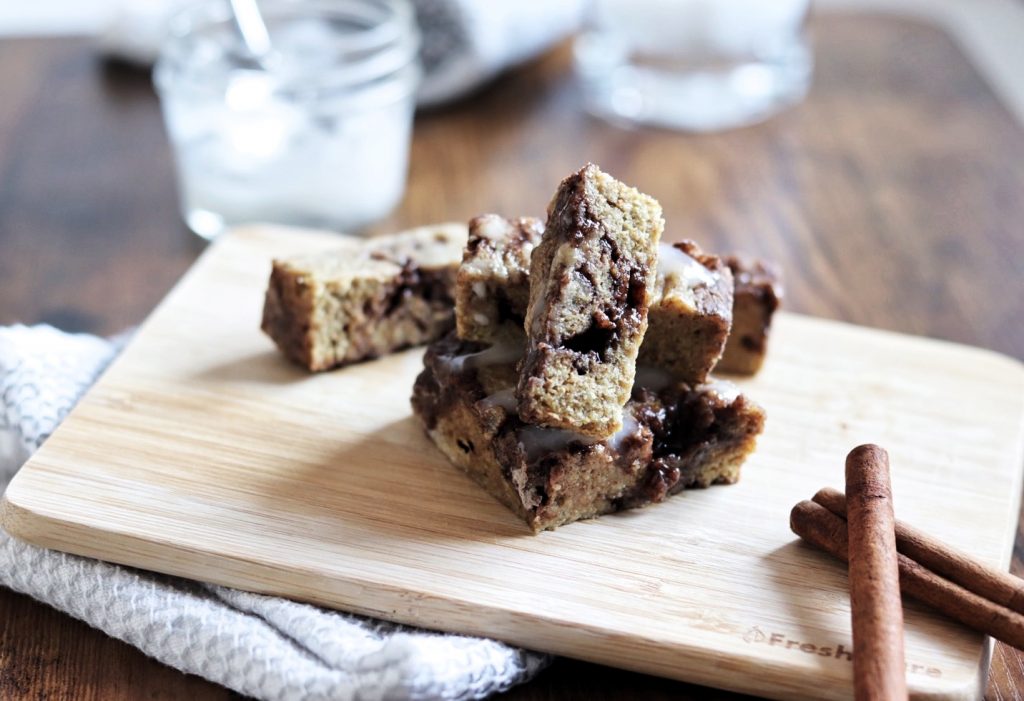 Potato Starch FAQ
The other main ingredient in this flax loaf recipe
potato starch
and while the carb number may scare off some Keto dieters, remember that potato start is a resistant starch and when balanced with the right amount of fiber
it has been shown
that it's a good addition to the keto diet.
Now onto the recipe!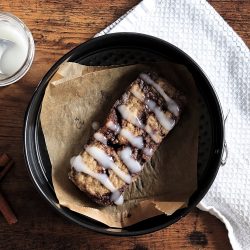 Flax Cinnamon Loaf | Vegan, Keto, Sugar-free, Gluten-free, Nut-free, Coconut-free (No bake)
This adorable little cinnamon loaf bread is made of just a few simple ingredients that are all keto, vegan, sugar-free, nut-free, top-8 allergy free, coconut-free, oat-free and oil free! And it's also no bake!
Ingredients
Dry Ingredients:
1

tsp

Lakanto monkfruit sweetener

6

tbsp

golden flax meal

finely ground

2 1/2

tbs

potato starch

1/2

tsp

baking powder

1/4

tsp

baking soda
Wet Ingredients:
1 1/2

tsp

apple cider vinegar

1

cup

water
Cinnamon Swirl:
3

tbsp

Lakanto monkfruit maple syrup

1

tbsp

ground cinnamon
Icing:
5

tbsp

Coconut or nut milk

1

tbsp

Powdered monkfruit sugar

1

tbs

Corn or potato starch in 1 tbs cold water
Instructions
Bread Instructions:
Mix dry ingredients, then add wet

Add water until it looks like very thin batter (it will thicken a lot as it sits so don't be afraid to add water)

Pour half of batter into micowave safe mini loaf pan or small silicon bread mold
Cinnamon Swirl Instructions:
Take half of the cinnamon swirl mixture and swirl into half the batter.

Add remaining batter on top and swirl in some more on top.

Microwave for 2-3 minutes

Remove from microwave and let cool completely before removing from pan
Icing:
Mix starch in cold water and set aside

On stove top heat milk on medium high until simmering

Add in powered sugar and whisk

Then add in starch mixture and whisk until thickened

Drizzle over top of bread

Slice and enjoy!
Notes
Nutrition Facts: 
Calories: 210
Fat: 13.5 g
Carbs: 12g
Fiber: 9g
Protein: 9g
Products: