Lakanto Pancakes | Keto, Gluten-Free, Nut-free, Vegan
Easy, delicious Keto, Vegan Pancake recipe made with Lakanto Pancake Mix, monkfruit sweetener and Chia Seeds! Low carb pancakes are hard to come by, especially if you are looking for a pancake recipe without eggs! In this video I'll show you how to make low carb pancakes that are low net carbs, and keto breakfast approved! 🥞 It uses chia seeds instead of eggs and drizzled with Lakanto maple syrup. 😋

Why Lakanto?
If you are looking for easy keto breakfast ideas and are particularly missing pancakes, Lakanto products really hit the mark! Their low carb pancake mix are low-carb is one that I've found to work really well for a number of keto recipes (not just pancakes). It's so versatile that I was able to make an alternative version without eggs!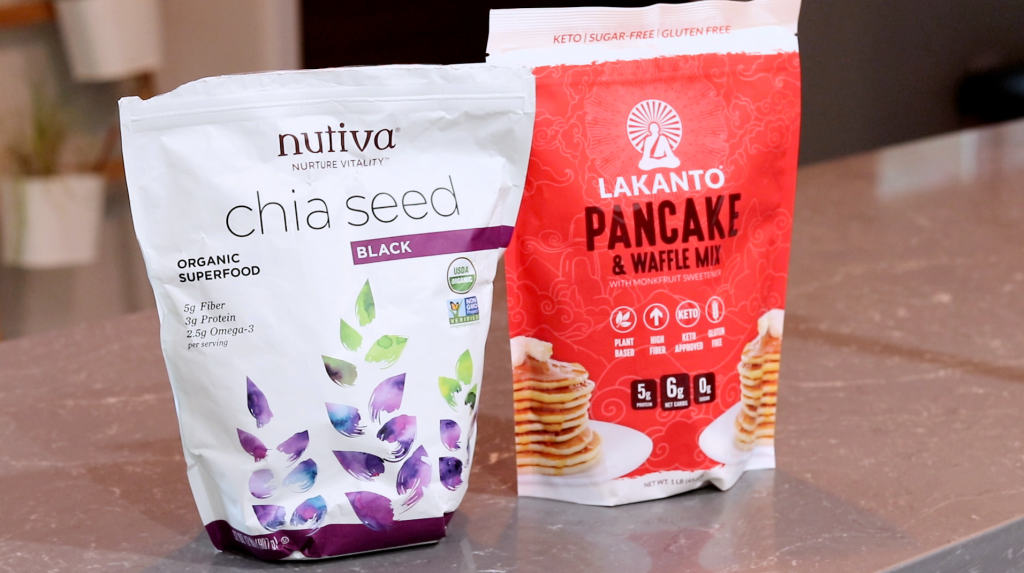 Not only are these keto pancakes low carb, but they are gluten free and vegan (meaning no eggs, dairy or butter) they are also nut-free and coconut-free! And we all know how nearly impossible it is to find a coconut, nut and egg free keto recipe! Not to mention of course they are also sugar free pancakes.
My favorite part about these keto pancakes aren't even the pancakes, it's the Lakanto maple syrup! Just a few fresh blueberries and drizzle a little (or a lot!) of maple syrup and you've got yourself the low carb breakfast of your dreams!

Mixing Tips
Don't overmix! These pancakes don't come our as fluffy without the eggs, milk or butter so the trick I like to use is to add a little baking powder and then mix just enough so that the batter doesn't deflate. I like to make the "Chia egg" first and then add the other wet ingredients to that instead of directly into the dry flour to prevent clumping and the needs to keep mixing. It's best to make this batter a spreadable rather than pourable for fluffier pancakes.
Cooking Tips
When making the actual pancakes it's important to be patient as they cook. It wasn't until recently that I realized how important this was. My first pancake was always extremely burnt so I had to hide it at the bottom and make sure no one else ate it. Instead of suffering through a burnt pancake, take your time and you'll never have to eat one again. Here are some steps:
Heat the skillet to medium low heat.
Make sure the skillet is heated through and properly greased.
Once the batter is on the hot skillet allow it cook through. This could take anywhere from 3-5 minutes. Patience is key!
Flip and cook for an additional 30 seconds.

Googey inside?
Without the eggs these pancakes don't cake as much as you would expect from regular pancakes, the trick is to really let it fully cool before eating! The longer it cools the more time the insides have to set.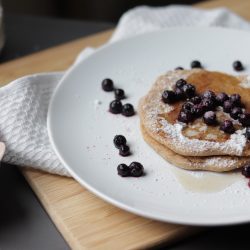 Lakanto Pancakes | Keto, Gluten-Free, Nut-free, Vegan
Easy, delicious Keto, Vegan Pancake recipe made with Lakanto Pancake Mix, monkfruit sweetener and Chia Seeds! Low carb pancakes are hard to come by, especially if you are looking for a pancake recipe without eggs! In this video I'll show you how to make low carb pancakes that are low net carbs, and keto breakfast approved! 🥞 It uses chia seeds instead of eggs and drizzled with Lakanto maple syrup. 😋
Equipment
Medium sized non-stick skillet

Spatula

Silicon brush
Ingredients
Wet Ingredients:
3/4

cups

water

(added slowly)

4

tbsp

water

(for chia egg)

1

tsp

Vanilla Extract

1

tsp

oil

Coconut oil or MCT oil
Dry Ingrediets:
1/2

cup

Lakanto Pancake Mix

1

tbsp

Black chia seeds

ground

1/2

tsp

Baking powder

(optional)
Toppings:
1

tbsp

frozen bluberries

(of fruit of choice)

2

tbsp

Lakanto Maple Syrup
Instructions
Heat your skillet and grease

Make a "Chia Egg" by mixing 1 tbs chia seeds with 4 tbsp of water in a small bowl. Mix and let sit for 3 minutes

Add the Lakanto pancake mix to a medium sized mixing bowl.

Add the vanilla extract and oil to the "Chia Egg" mix

Add the water a little at a time to the dry pancake mix, it should be medium thick batter consistensy

Add in the wet ingredients

Don't over mix, add more water if it seems too thick

Cook about 4-5 minutes on each side on low-medium heat

Let fully cool before serving to prevent gooeyness inside

Drizzle with Lakanto Maple Syrup and enjoy!
Notes
All products used:
Some links may be affiliate links through which we receive a commission. Your clicks help us keep our blog up and running so thanks for clicking!